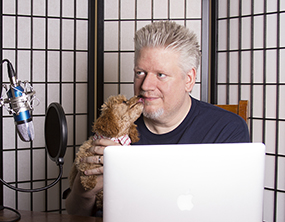 Meet Pip And Steve
Having always been a fan of Poodles, we adopted Pip to became part of our family in 2015, shortly after he was born.
Together, we launched The Pip And I Show in May of 2016 where we discuss Web Design, Art, Photography, Marketing and a lot more.
Check out our YouTube Channel, watch our shows and be sure to Like, Comment and Subscribe!
Pip
Pip was born in January of 2015. He was the runt of the litter and weighed 1lb when we got him. He had been diagnosed with hypoglycemia by the vet and was not at all food motivated.
We had several vet visits and a couple of emergency vet hospital runs early on. His personality and disposition is so endearing. He was immediately a member of the family and we would have done anything to save his life.
We always had a tube of Nutri-Cal handy and when he was lethargic we would immediately give him some. It kept him going for months. Finally, we began cooking food for him and hand feeding him and he started getting better.
Today, Pip is a slightly overweight healthy little guy weighing in at 8lbs. He loves to eat and is now food motivated to where he will dance for his food. He and I are inseparable. He is my best friend...other than my wife.
Steve
I'm Steve. I have been working with the web since its commercialization in 1993. I was selling websites to small businesses before they even knew what the web was.
Can you imagine?
How do you sell something to someone who has no idea what it is you are selling? Well, I was ahead of my time. Five short years after the web started (commercially), and just as Google was launching, I found myself working for a large company to launch their web presence. I am still with that company today and I have learned a lot over the years.
Now, I am talking about what I've learned and providing tips, guidance, information and techniques in support of anyone who wants it. On my journey, I have helped hundreds of businesses (and a little Poodle named Pip). I have grown large social media communities, developed sites supporting more 60,000 unique visitors per day and driven growth strategies helping companies to triple their revenues.
I am also an accomplished and published comic book artist and have a design eye for the web (even though I am not really good at design, myself).
So, there you have it. Our blog and YouTube show are a fun outlet for me to share what I've learned and to offer it here for your edification. Feel free to hit us up with your questions and suggestions!