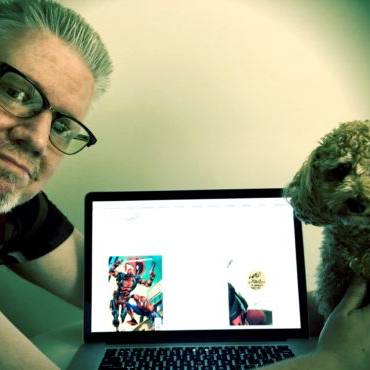 Why Won't Rob Liefeld Send Me My Comic Book?
UPDATE! MAIL CALL!
Returned home to find the mail had come and much to my surprise, I have received my signed Liefeld Deadpool and Spidey comic book. This marks 27 days after I placed the order. My social media drive to share my plight with the web gained me supporters and attackers, alike. Some are fans who accused me of not being a fan and some were people who told me they had ordered merch from the merc creator, as I did, and still had not received their product. Some of my supporters reported having ordered product in January of 2016 and still had not received it. There was one individual that accused me of wanting to sell the product on eBay. Trust me, my wife would LOVE for that to happen. She can tell you I would NEVER sell my collectibles.
Buyer beware, ordering from robliefeldcreations.com may or may not result in a happy transaction.
My experience was a journey that ended well. I hope this post helps others when considering a purchase from his site.
The Setup
Comic great, Rob Liefield is my generation's Stan Lee. I have been a fan of his since the early 1990's. For those who aren't aware, he co-created Deadpool, among other very popular and amazing characters for Marvel Comics. However, it hasn't always been smooth goings for Rob. He left Marvel Comics in 1992, in a controversial and stunning move, with several other artists. Many of these artists, including Rob Liefeld, banded together and started Image Comics (home of some of the most amazing characters and stories such as The Walking Dead comic book series, Spawn, Invincible and Huck, among others).
Even though he has had it rough at times, I have been a staunch supporter. He started young in the business and he has been criticized not only by the die-hard fans of comic-dom, but also by some industry heavy weights of fellow artists and creators. He has been hit by some of the biggest and brightest in the industry. Really, a veritable who's who of comics has climbed on the bandwagon of Liefeld haters to marginalize his work and personality. But not me! I have always been a proud fan!
Controversy And Rob Were Dear Friends
Rob Liefeld was always a lightning rod for controversy. He was accused of stealing or copying art of other artists. This added to the strong criticisms of his art and style from his obvious hatred of drawing feet to the infamous Captain America moobs incident and his nickname Rob "my head's too small" Liefeld. He has had his share of fan and peer bullying and all the while, I defended him.
The Day I Discovered Nerdy Pop And The Resurrection Of Liefeld
Recently, I found a new YouTube channel and series in my regular search for things that interest me. For some reason, while feeling nostalgic, I searched for Rob Liefeld. When I did, I found Nerdy Pop! Nerdy Pop is hosted by longtime friend of Rob Liefeld, Matt Barnes. Matt produces and co-hosts the show with Rob.
I was pleasantly surprised by the quality and fun of the show and I was reminded of my young adulthood in the early 90's reading about the hi jinx of the young and the restless Rob Liefeld. He sat in that chair wearing his flip flops and spouting his nerdy goodness for the fans. I admit that I was once again caught up in the awe that Liefeld conjures. He is a modern-day P.T. Barnum and he was reeling me in.
I Should Have Walked Away
Like the Cutting Crew, the one hit wonders of the 80's, sang – "I should've walked away." My wife remembers me telling her as I watched the first episode of Nerdy Pop, "Wow, I have a lot of respect for Rob Liefeld." She now thinks I may have spoken too soon.
See, I watched those first several episodes over as many weeks and I visited Rob's Rob Liefeld Creations website. Rob talked on the show about the fact that he personally fulfills the orders on the site. He has an awesome over sized Deadpool movie poster that he talks about rolling up and sticking in a tube for mailing! I was like, "WOW! He actually sends these out himself!"
I was in awe of his greatness! The personalized approach of handling the orders himself sent me over the edge when I decided to place an order for the Deadpool/Spidey crossover issue of which Rob drew the cover. I also purchased it with his autograph and a seal of authenticity. This little book set me back about $55. Not horrible. But still, it's money. I ordered this book on July 31st. Here we are on August 20th and I still don't have the book. I should have walked away.
But How Did We Get Here?
I could have left well enough alone had it not been for the rude response I received from Rob, himself, on Twitter when I asked about the book. But why would I go to Twitter to ask about the book? Why didn't I send an email via his contact form on his website? Oh! Great idea! But, uh, I did that. Twice. No response. Either time. So, what to do?
Well, I decided to reach out to Rob on August 12th on Twitter. He responded asking if the book I bought was ROM. I responded and he explained that he had a damaged shipment of those books and he would get it sent out that Monday for me. 6 days went by. Still nothing.
I went back to Twitter on August 19th, where he responded the first time, and he gave me a nasty verbal purple nurple. I was crushed. My hero, the one I defended through every single attack bestowed upon him by his fans and peers all these years, gave me a verbal purple nurple. He told me that Twitter was not the forum for asking about my book and that I should email him. I responded that I had…and never received a response. He went radio silent on me. So, I did what anyone would do. I sent him an email, again, apologizing for not emailing him and calling him out on Twitter. Crickets.
Just to be clear, I DID email him once again after this Twitter exchange with the following email. Look at just how humble and nice I was about the situation…
So What Does A Web Dude Do When He's Dissed By His Hero?
I am honored that THE Rob Liefeld responded to my tweet! I was blown away. I would probably still be in awe over this fact if it wasn't for the one nagging truth of the matter – he dismissed me. Liefeld has "Rob"bed me of my $55 and never sent me a book. And now he goes radio silent when I quiz him about it. His site says 3 to 5 days for delivery. We're quite a bit removed from that timeframe.
What do I do? If it was a situation where he was my waiter and I complained about my food preparation, I would be concerned he might spit in my food…but I don't think Rob would sign my book "Todd McFarlane." I think Rob is just busy. But I have to do something. What if I never get my book? Do I dispute the charge? Nope! I am a web guy!
So, I have posted this blog and placed a counter on my website counting the days that have elapsed since I made the order for the book. I am going to share this with everyone I know until I get the book. I am going to send Rob an email once every week at the end of every Pip And I episode I shoot until I receive the book. I love you, Rob! You are the next Stan Lee. Please give me my book!