Cord Cutting In Your Future? A Tale Of A Merry-Go-Round Ride
The Cord Cutting Turnabout
Cord cutting is as popular as any viral, stupid cat (see what I did there?) video found on YouTube these days.
My family and I decided to jump in on the fun and try to cut the cord after having discussed it for the last couple years. Of course, we had some motivation to do so. As I sat working on my bills, on a typical Saturday morning, I noticed a change in my DirecTV bill. It was $10 more than last month.
I had gotten a discount a while back that lasted around 6 months and it ran out. Yet, my commitment to them is still four months away. It's like that when you sign a deal with the devil. Yes, DirecTV is the devil. Actually, all content distributors are.
We were customers of DirecTV for nearly 15 years before making the decision to move ahead with our cord cutting journey.
By the end of this post, you'll have enough info to make an informed decision on your content options and costs, as well as the pitfalls you need to be aware of.
It's Like Pulling Teeth
$10 doesn't sound like much.
And in the grand scheme of things, it really isn't.
However, I have been struggling for years to justify spending nearly $200 per month on my DirecTV bill.
Yet, as we would sit down as a family to review our watching habits and collect our favorite channels, we found there was just no way to really cut that cord. We discovered there were stragglers in the family, who like a child with a loose tooth, had that one last nerve attached and just couldn't find a way to snap it.
Cord Cutting Is A Journey To Hell…Err, uh, A Journey That Requires Commitment
People grow apart from their former favorites over time. My daughters have grown and, so too, have their tastes in programming and how they consume it. (It's a lie – none of us has changed)
My wife has never been a fan of anything in particular and only watches what everyone else does. She has some favorites, but nothing she couldn't live without.
The family determined, collectively, that The Walking Dead, lots of CBS shows, CW shows, Teen Mom and several Disney Channel shows were important to us.
Previously, there were entire channels that members of the family were attached to that halted our attempts toward slicing the cable lifeline. (and as you will see, we are all still very much attached to channels)
This time around, as we took stock of our needs, we were all able to specifically name shows or programming we would miss. This was the break I was looking for! If we could just get to the programming level, I could convince the family that I could save money just by purchasing the seasons of their favorite shows on a streaming service like Amazon or Vudu.
We listed the shows and began looking at Netflix and Hulu to see if they were covered there. Now, we all realize that either of those streaming apps could stop licensing this content and we would lose it, but we could always purchase these seasons.
We looked at the shows and our $200 monthly budget and quickly realized how we could purchase whole seasons over the course of a year and have plenty to watch that we actually enjoy.
We consume a lot of content online through YouTube and other social channels, as well. We were a little concerned about losing the DirecTV remote as it was our source for all devices as a universal control.
We researched and tried each of the more popular apps to see if they would satisfy the need.
Little Did We Know, It Was All About To Fall Apart!
SlingTV, DirecTV NOW and Playstation Vue were all tested in our efforts to find the right one for our family and our budget.
YouTube TV, Hulu and Amazon have not yet released their versions of cord cutting TV apps, so we could not test those or offer an opinion.
Looking At Cord Cutting App Providers
Hang on, kids! We're about to take you on a journey of high thrills and never-ending twists and turns on a journey to find freedom from the evil content distributors!
DirecTV NOW proved to be a formidable service, or so we thought, offering a great selection of channels.
There are four channel packages available with DirecTV Now. In addition, HBO, Cinemax and Star are each offered as add-ons.
From 60+ to 120+ channels, there is definitely a programming package for you: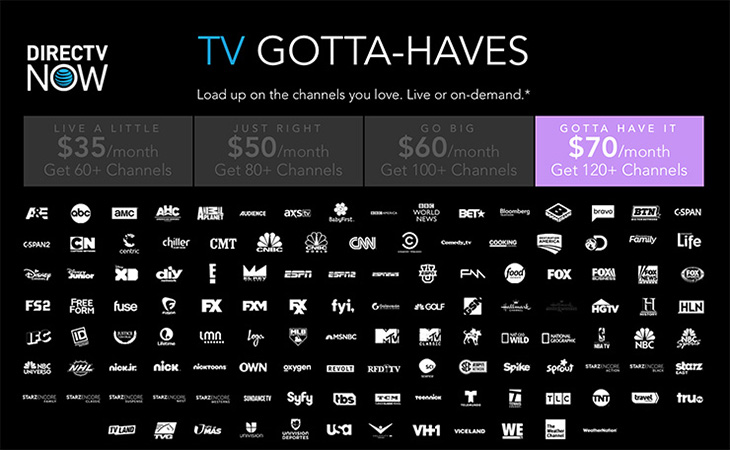 We have Roku and Chromecast devices on every TV in the house. We prefer the Roku because we can pickup the remote and watch. But, DirecTV Now doesn't work on Roku…yet. They promised in the first quarter of 2017, they would have it ready to go. They recently updated their forums to say it will be ready in 2017. No mention of the first quarter.
Because we had to get out our laptops to watch and cast the app to our Chromecasts, we didn't really use the service that often. It also was plagued with a lot of bugs and crashes and it made my Mac run quite hot.
We dumped the app due to frustrations with crashes, picture quality and the inconvenience of using it.
Moving On To The Next App
Playstation Vue's channel lineup on their website was simple to navigate. There are four tiers of service depending on the channels you want.
The interface for the service was the best of all the options we tried. We absolutely loved this offering.
The HBO portion of the app was thorough and we never felt like we had a lack for something to watch. Navigating the channels and programming can be done with ease. We chose the top package, Ultra Slim, for $65/mo. It was affordable and offered several features, including a DVR to record programming and pausing Live TV for live channels.
Our viewing habits did not change. Yes, we watched a lot while using the Vue app, but not any more than we always have even with satellite TV.
For an entire weekend we all binged watched programming found with Playstation Vue and we watched live TV shows.
A Cap You Don't Wear On Your Head!
The very reason that stopped using the Playstation Vue service was due to the DVR feature.
Around January of 2017, we were alerted that our cable provider was increasing our data transfer cap from 300GB to 1TB per month! I thought, "Wow! How nice of them!" But, wait. I didn't know I had a data transfer cap on my cable internet. When did that happen?
Never before had we been aware there was a cap. In fact, it wasn't until they provided this "increase" that they decided to provide a new handy tool – they gave us access to a daily usage meter.
Shortly after we obtained the Vue app, I began receiving notifications via email from our cable internet provider stating we had used 85% of our monthly allotment.
We had another couple of weeks before we rolled into the new month for our billing period for our Internet service. After just three days with the service we had nearly tripled our usage. We had now exceeded our allotment for the month. We were being charged double the per MBPS rate as our normal billing rate for the overages.
Once our 3-day binge watching was done, our viewing fell back in line with what has always been. Vue is simply a data hog, and several forums we found after seeing the problem ourselves, confirmed the issue.
Starting Over, Again
Next, we decided to try SlingTV…again. We had previously tried it a year or so ago. It didn't fit the bill back then because it was so limited in the number of streams and devices allowed concurrently.
SlingTV has a very unique setup in that it splits its service into three main tiers and then has add-ons available for each. SlingTV's tiers are Blue, Orange and a combination tier of Blue + Orange.
The Blue tier allows multiple streams of viewing, while the Orange tier only allows a single stream. Of course, both Blue and Orange have a unique channel selection while overlapping for others. For instance, both tiers include HGTV. The Blue tier allows up to three streams to watch HGTV, but the Orange tier only allows one stream.
WHEW! It is hard to keep up with, and nothing should be that difficult!
The Orange tier offers Disney, Disney XD and Disney Junior as add-ons. These are not options available in the Blue tier. Obviously, this means these can only be watched on a single stream.
Something I completely forgot when considering our cord cutting journey
The kids leave their TV's on 24 hours a day. It's their background noise, sound machine.
They like putting on the Disney channel and leaving it on while they sleep. Now, they simply struggle to sleep without it. It's part of their routine.
This continued to edge us up the allotment of our monthly Internet data transfer. This combined with Sling's complex and strange multiple streaming policy led us to reconsider the app.
Back To Square One – A Cord Cutting Epic Fail
Even after having dropped Vue and going to Sling, our usage did drop significantly – but not nearly enough. If your family does a lot of streaming and if you are viewing in HD or higher, cord cutting simply may not be for you and your family.
We've run out of options. Our data transfer is a huge concern and there is no way to ration it or budget for it.
So, what did we do? We are back to DirecTV on satellite. They are coming out Tuesday to reinstall. There is no option to cover the watching habits of the family that is affordable and consistent.
Tell us your experience with cord cutting in the comments
Have you had a similar experience? Are you aware of other options? Have you had success?