The Top 10 Trends For Web And Social In 2017
Each year-end, we share our thoughts for what we believe will be the trending web design and social media movements in the new year. This year, we break out our best David Blaine to both impress and surprise you with our future predictions of this industry we love so much!
The Top 10 Web And Social Trends For 2017
Web Brutalism
The brutalism movement is receiving a lot of coverage lately. Pascal Deville developed a site focused on the topic and appears to be a big proponent of the cause. His site, brutalistwebsites.com, defines web brutalism in this way – "In its ruggedness and lack of concern to look comfortable or easy, Brutalism can be seen as a reaction by a younger generation to the lightness, optimism, and frivolity of today's webdesign."
Either as a hybrid of the cause, or in acceptance of the influence of the "younger generation", it is clear that the movement is affecting the mainstream with sites like The Drudge Report, Adult Swim and Bloomberg, in the mix.
We've known for a while that crappy sites (crappy in design only) can convert. In the business of online commerce, leads and conversions are (or should be) the primary focus. We see a hybrid of brutalism and simplicity taking form as a trend in 2017. Less attention will be paid to design with regard to aesthetics or what looks good, while ensuring function is embraced as a priority. Besides, form is subjective, right? What looks good to you and I, may be abhorrent to others.
Mobile Only Design
We realize a lot of agencies pack their prospective predictions with their promotion of all things mobile first. However, we envision an explosive growth in the mobile traffic arena, which many put at around 77% of all web traffic, today. With that in mind, combined with our other predictions, we feel that mobile-only design is a sleeping giant ready to be awakened. Why invest in desktop when no one else is?
Reduced Responsiveness
Déjà vu! Yes, we predicted this in our 2016 roundup of trends, but we feel this is simply a result of the mobile-only initiative and it will manifest itself far beyond what we have already seen this year.
Elbow room makes a comeback! No more edge to edge content and images. Let whitespace reign again! Give us those glorious spaces and breathing room between content blocks.
Genuine And Candid Versus Stock
Forget TinEye! You have witnessed this without our favorite image reporting tool. We have seen sites that use the exact same graphic or image as used by another site. The dreaded overused stock photo syndrome that leads us to click away as though we were watching that 7th season opening episode of The Walking Dead where Lucille is lodged firmly in the skulls of some of our favorite characters. We just can't stomach it and we click away. It's tacky at best. We site surfers would rather see a blurry, candid photo right from your iPhone 4 than to be subjected to a photo we have seen make its rounds across the web.
More Video
Whoa! Look! Another prediction that has been reused as much as that stock photo we were just talking about! Guilty as charged. We did make this prediction last year. However, we feel so strongly about video's placement atop the mountain of content we just had to repeat it. 2017 will see the continued, rampant growth, of video across the internet. More and more platforms will embrace video and social platform users will, too! Even your grandma is going to start posting videos on her newly minted Instagram!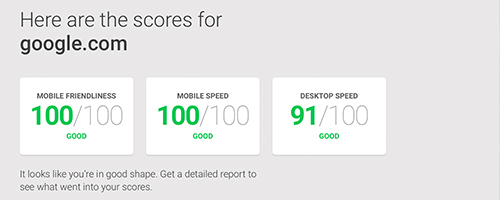 Speedier, Less Bells And Whistles
Mobile, Google and attention spans are demanding faster performing websites. Mobile users demand faster loading sites or they get skipped and overlooked. Google has made site speed a criteria in their algorithm. Slower sites are punished with lower ranking.
Large scrolling image sliders, full screen images and clunky javascript will all be tweaked and used in moderation to ensure a speedy response. Sites won't be packed with heavy content types or coding practices that add to the delay in load time.
The Social Consolidation Explodes
Twitter is confused, scrambling and in an identity crisis of mass proportion. Facebook has had more than 60 social platform acquisitions. Google continues its search for the right platform to grow the empire and mark its presence in the social arena. While Google+ was the first foray into social for Google, they continue to experiment with the genre. Most recently, they announced their intention to further enhance YouTube (one of Google's more than 200 acquisitions) into a more traditional social platform. YouTube's Backstage will reportedly add social networking features to help it encroach into Facebook's territory.
2017 will be the year of social media platform consolidation. The big guys will get bigger and offer more features to their user base, while bringing more value to business customers. Monetization will be the driving force behind the acquisitions. Those with the best strategies for getting the most out of declining systems, like Twitter and others, will thrive.
Paul Rand Inspired Design Will Dominate
"Don't try to be original, just try to be good.", "Simplicity is not the goal. It is the by-product of a good idea and modest expectations.", "The public is more familiar with bad design than good design. It is, in effect, conditioned to prefer bad design, because that is what it lives with. The new becomes threatening, the old reassuring."
These quotes are all from the godfather of commercial design, Paul Rand. As much as we believe things have changed, we realize they have not changed at all.
We've said it before, we'll say it again; crappy sites convert. Form is not as important as function. In fact, it isn't important at all. We all like ease of use, yes. We like visuals that guide us and we like simplicity. We just want to get in and get out. That's true customer experience. If design helps get us there, cool, but we aren't choosing sites we shop by how well they are designed. We are choosing them based on our need or desire for the products they offer and based on our positive experience.
2017 will be a journey back to simplicity.
Storytelling Becomes Priority
We are constantly looking for ways to get noticed. The noise has risen to a level we have never encountered before. There are so many different products and brands vying for our attention. If you are small business, how do you even begin to get noticed?
The independent, craft beer brewers have found a way to market to the masses in a subtle and relatable fashion. They tell stories. Stories of family, tradition, legacy, trials and much more. It's like the Reader's Digest of storytelling and it conveys a sense of values and personal triumph. Of course, sprinkle a dash of outrageousness and you have a successful blend sure to help your grassroots campaigns get noticed, shared and engaged.
We'll see more attention paid to storytelling marketing in 2017.
Micro-Influencers
Social Media has gone through quite an evolution and continues its hurried pace of change. Businesses are still learning how brand ambassadors can be found on the various social channels and, at little to no cost, they can spread the word about their brand, products and services.
Influencer marketing has become an effective method of getting a brand in front of a large audience in lieu of TV spots or other large scale traditional approach. This can be costly and it doesn't convert as well as a more focused technique.
Take, for example, hiring the Kardashians on Instagram to post a message about your perfume or lipstick. You very well may sell some. Now, consider, hiring the Kardashians to sell your car. While people may listen to them regarding fashion and beauty, they might not translate well into sales for a car they promote. What do they know about cars? At least, what do they know about cars as compared to beauty products?
Now, consider a micro-influencer. This is someone with a specific expertise and focus on social with followers who have similar interests. They won't have 2 million followers like a Kardashian, but the followers they do have are engaged and confident in their knowledge.
In 2017, we will find those influencers that focus on a distinct topic with a smaller, more engaged set of followers. Engage with them and develop a relationship and earn their likes and comments.
Bonus: Expiring Social Content Will Rule
Give your audience what they want. Give them something informative, helpful and of value. Maybe it's even something you would normally expect a fee for. Now, give it to them with a sense of urgency.
Snapchat is all about sharing content that has a limited lifespan. It's essentially dead on arrival. Businesses are using snapchat to create a sense of urgency for unique and valuable information. They are scheduling events around the content and providing it for free. The catch? You have to consume it live, at the time it is scheduled. Once the event is over…it's over. It won't be available afterward. This is exactly what encourages the audience to show up.
In 2017, Snapchat won't be the only platform used by business for expiring content. Facebook Live, YouTube Live, Instagram Stories and many other platforms and apps will be leveraged to infuse the urgency.
Web and social are in a constant state of evolution. We say this often as a reminder of the rapid change we are faced with continually in our industry. While the web journeys back to simplicity, social consolidates and becomes more real-time than ever.