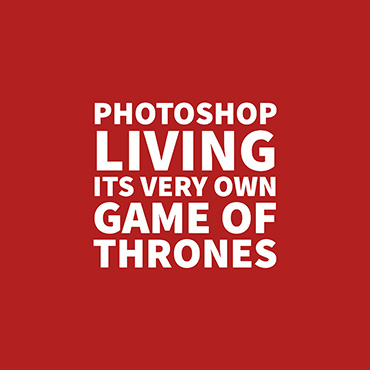 Photoshop Living Its Very Own Game Of Thrones
Photoshop May Have A Stark Future
Photoshop is in real danger of becoming extinct with the changing landscape in technology and our social environment.
With the advent of the smartphone, photography has become mainstream. "What's the best camera?", the question goes. Easy, the one that's with you. Now, editing is done primarily in the phone as you post to your favorite social network. The quicker, the better. Things are happening and we forget what was posted 5 minutes ago. Gotta keep up!
Adobe Has Struggled To Keep Up
Adobe Photoshop has long been the standard for photo editing and graphic design. No other software has approached the market share that Adobe holds.
In recent years Adobe has struggled to maintain its foothold on many fronts as several alternatives have popped up. The challenges to the Adobe throne have come from some unexpected places. Will they survive or will the Lannister-like Adobe army be too much for them?
Photoshop Impacted By DSLR Camera Market Fall
The DSLR market fell 35% in 2016, like Ned Stark's head. The likely culprit here was the advent of the smartphone. As they have stepped up their game with built-in camera technology they have put a hurt on the DSLR and mirrorless camera market.
This has had an unexpected impact on the photo editing market. A slew of smartphone apps have flooded the market over recent years replacing the clumsiness and bulk of Adobe's flagship product. Amateur photogs prefer the apps as they are quick to produce quality results. Most of us now consume our content online and there has been an appreciation for candid photos produced by amateurs.
Further, people have recoiled at the practice of "photoshopping" models for advertising. This revolt has led to a change in how we advertise and the images used. It has also changed our preferences in the images we like to view.
Photoshop Losing Web Design Market
Sketch is a tough act to beat for high fidelity web and app design. I am biased, but I believe that it has improved since its release in 2010 in terms of features and stability. Sketch is the defacto web asset creation app for the Mac.
Adobe did its best to follow up with some bolt-ons to its Photoshop product such as artboards. However, these were added without the finesse of the offering from Sketch.
Sketch is built around web design. Photoshop requires a bit of effort to setup and stage a site design. It is less intuitive for the job. Sketch's tools are simple and fast. All of these considerations are likely the reason it is so popular in the web design community.
Affinity Becomes A Thorn In The Side Of Photoshop
Affinity from software company, Serif, came out of nowhere in 2015. It started as a stable and reliable photo editor with limited features and quickly ramped up to be a very compelling challenger to Adobe Photoshop. Affinity Photo grew in popularity and has added features since then. It was initially released on Mac only and cost just $50. Both, Affinity Photo and Designer are still only $50 each and became available on Windows in 2016.
Serif launched a fully featured Affinity Photo iPad app in early 2017. Utilizing the Apple Pencil, editing is as powerful as anything you can do on a Mac or PC using Photoshop. They showed the world what the iPad is truly capable of.
What Have You Done For Me Lately, Photoshop?
Adobe continues to try to stay relevant. They have decided to experiment with a web design tool that can stand up to Sketch. In early 2017, Adobe released Experience CC. Most designers feel it still falls short of Sketch and its features. Many feel as though it will continue to struggle with the pace of updates from Sketch.
Adobe Photoshop's Red Wedding
Is Adobe Photoshop going the way of flash? Will Apple and its confounded iPad be the root cause of Photoshop's demise? It appears so. Perhaps it may take some time as Adobe is good at dying slowly. I mean, how long did it take Flash to die? It was lumbering on for years. Whew!
Is Photoshop headed for its very own Red Wedding?
I admit, I am still a Photoshop user when it comes to photo editing for my blog and photo editing. I do have Affinity Photo and Designer for my Mac and I picked up the Affinity Photo iPad app. Quite impressive. I am considering a full transition for my blog images and will likely do what everyone else does for photo editing – use an app.
So, how long will Photoshop remain in your toolbox? Are you close to seeing it out?
Let us know in the comments!